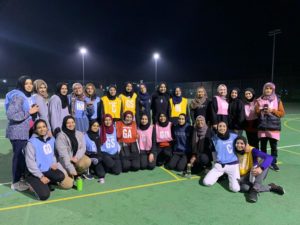 After lots of netball tournaments with twists and rules adaptations, the SJ Netball coords finally organised 'Just a Normal Netball Tournament'. No twists and tricks – just straight up netball.
The courts were set, the refs were ready, and with a microphone on hand, the coords started off the tournament.
With a Valentines theme, names like Blushin' Babes, Shooting Sweethearts and Red Roses were chosen.
It was a chilly night but the teams quickly heated up with some tight matches.
Once the group stages were completed, the results were in, and the semi finals were played. The scores were incredibly close!
In the end it was the Lovely Leapers who stole the win, with the Blushing' Babes finishing as close runners up.
One player stood out due to her consistent brilliant game play – Aasiyah Alloo was deservedly chosen as player of the tournament!
The night ended with some chai and sweet treats as always.
Some wonderful netball was played and there was a lovely warm community sisterhood spirit – it'll be one to remember!