As part of our commitment to growing the girls and ladies football game, we teamed up with Middlesex FA to host a workshop for ladies and the FA to share ideas and good practice and discuss how we can support our girls and their passion for football
Ladies made spaghetti towers, talked tactics and were encouraged to complete the FA Level 1 Qualification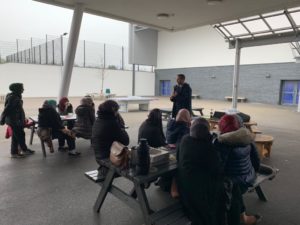 Did you know women and girls football is the fastest growing female team sport in England?
On 07/04/19 SJ Ladies hosted its first ever workshop for ladies/mums in conjunction with Middlesex FA. The purpose behind this was to hold an informal discussion to bring awareness about football and what we can do to support our girls and their passion for football. 15 enthusiastic women attended the session and for 90 minutes it was all things football! Armed with tea and doughnuts they discussed amongst their teams about the sport and how to combat the challenges it brings.
They learnt about how they could develop their girls through football, hold training sessions and how to make training fun and exciting rather than regimental and rigid. The session sought to teach our mums how we can inspire our girls and develop their love for football. To facilitate a safe environment for them to be themselves and excel.
The ladies tried their hand at spaghetti and chocolate mounting in the team building activities and we saw competitive sides surface in a bid to create the largest, unfaltering tower. Regardless of age or ability there is something for every girl that wants to kick a ball and SJ is working closely with the FA to ensure every available opportunity is extended to our girls. This is no easy feat which means we need ladies to join the team and make this journey smoother so that we can bring the best that is available for our girls. Information on the FA Level 1 course in Coaching is available and subsidies are also available for any ladies who wish to join the team. It is the first stepping stone on the core coaching pathway and provides an introduction to coaching the game.