LADY OF LIGHT DOUBLES BADMINTON TOURNAMENT 2019
On Saturday 2nd March 2019, SJ Ladies Sports held the inaugural Lady of Light Doubles Badminton Tournament at Rickmansworth School. The event was held in conjunction with the wiladat of Sayyida Fatima (A.S) and International Women's Day.
The day was a resounding success as 150 participants and over 50 spectators got together to celebrate the achievements of women in Islam, society, culture and sport and engage in fierce competition for the title of 'Lady of Light Winners 2019'.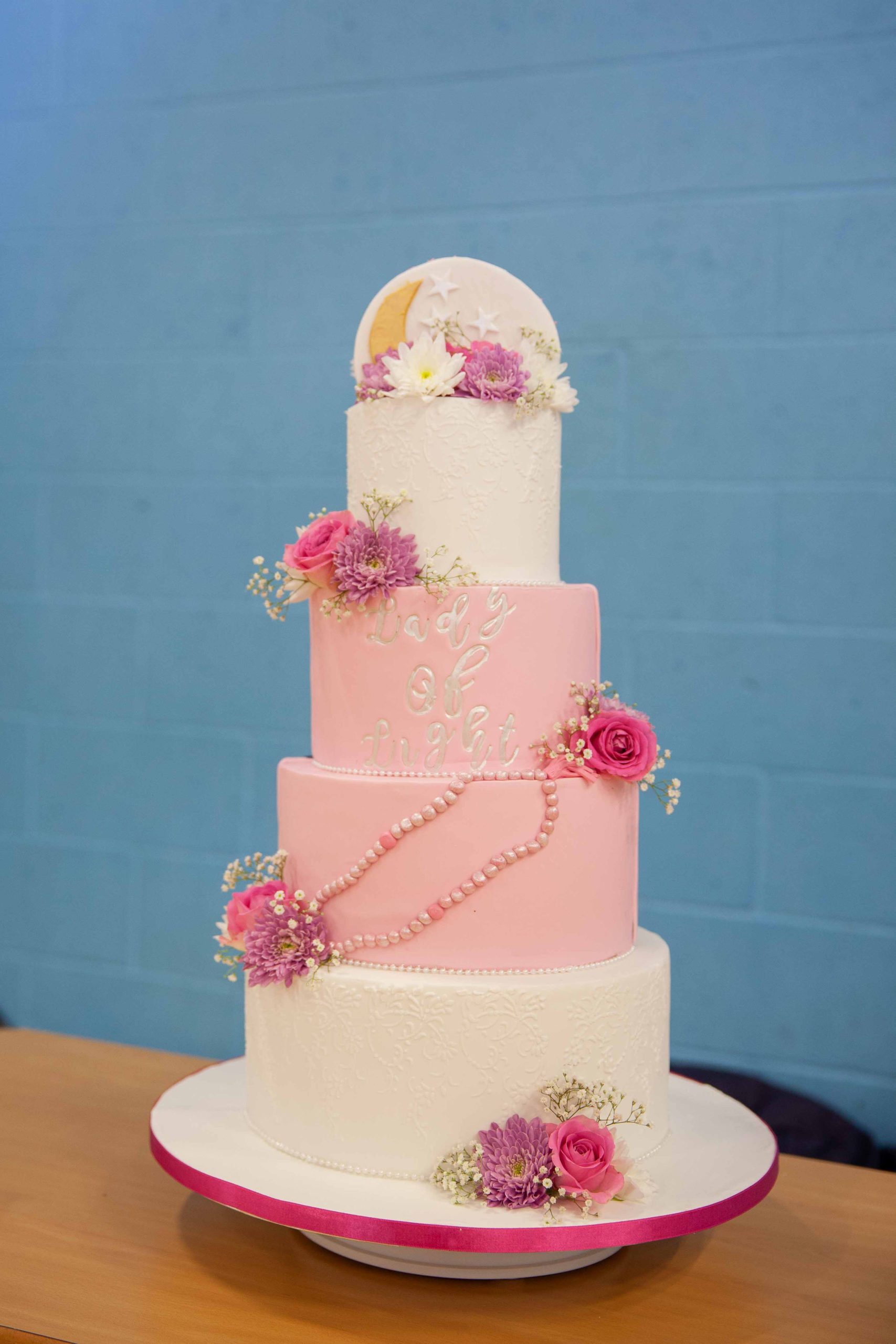 We were honoured to host Hyderi and SICM Jamaats and had a fabulous day forging new friendships and strengthening inter-jamaats bonds.
The morning began with the Ladies group games in 3 categories, Lady Maryam (Beginner/Intermediate 1), Lady Khadija (Intermediate 2) and Lady Zainab (Intermediate 3/Advanced). There were many gripping games and close finishes with only one or two points in it. The top 4 pairs from each group progressed to the knockout stages.
After a delicious lunch and well-deserved cups of chai, we were honoured to welcome two guest speakers to share their experiences and help us to highlight the potential that women in sport and Muslim women have.
Firstly, Neethu Haridas – biology Teacher and professional football player with QPR FC since 2016 – gave an inspiring presentation on her journey to becoming a professional footballer and the challenges she faced growing up in an academia-focused family. Neethu spoke about her career-threatening ligament injury and as a result the physical and mental battles she overcame to come back from this and continue a successful football career.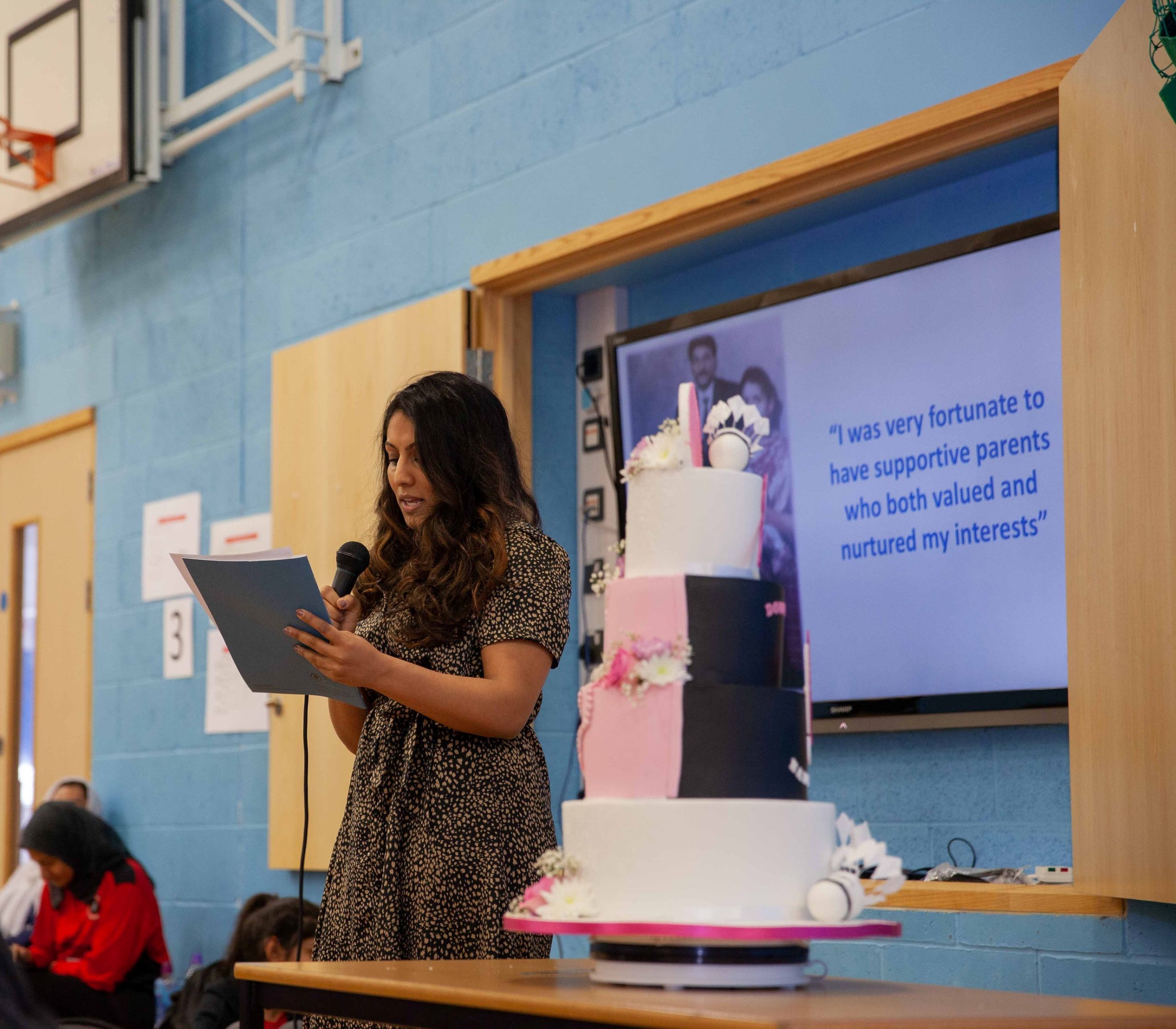 Barrister Safia Tharoo then gave an equally inspirational presentation on the legacy of Sayyida Fatima (A. S) and how the Lady of Light was her role model in driving her to become a barrister despite being one of only three Muslim hijabi women in the profession at the time.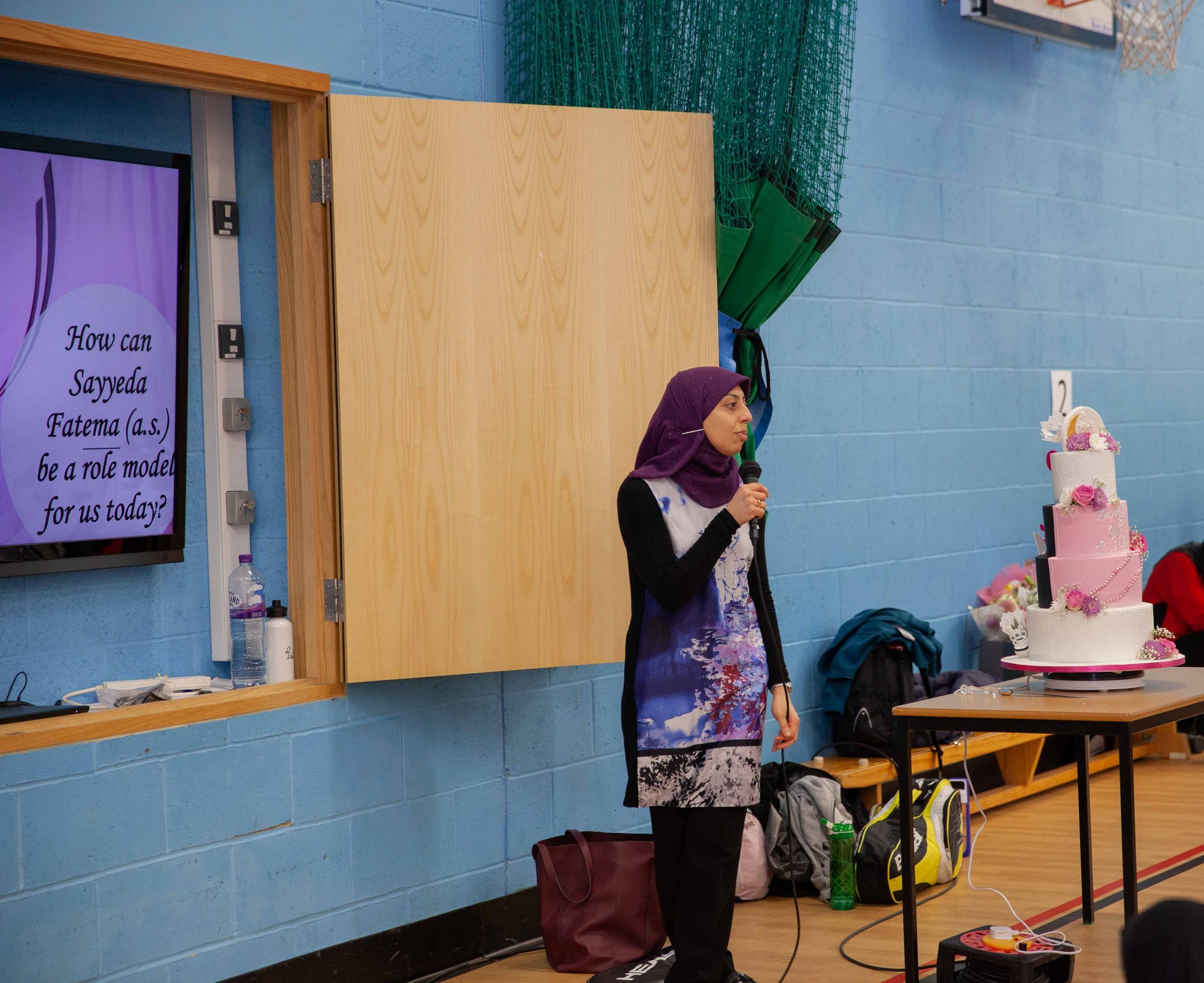 It was great to see the girls in particular fascinated by the presentation and enlightened by how much women have achieved and how they too can go on to achieve the same if not more. The girls were inspired and the presentations seems to fuel their thirst for success which became evident in the knockout games that followed.
The star of the show was a beautiful (and very tasty!) 4-tier cake made by Zainab Nazerali of Memorable Bakes. It was our honour to welcome the Chairlady of Hujjat, MarziaBai Jaffer, to cut the cake – made up of vanilla, red velvet and chocolate tiers.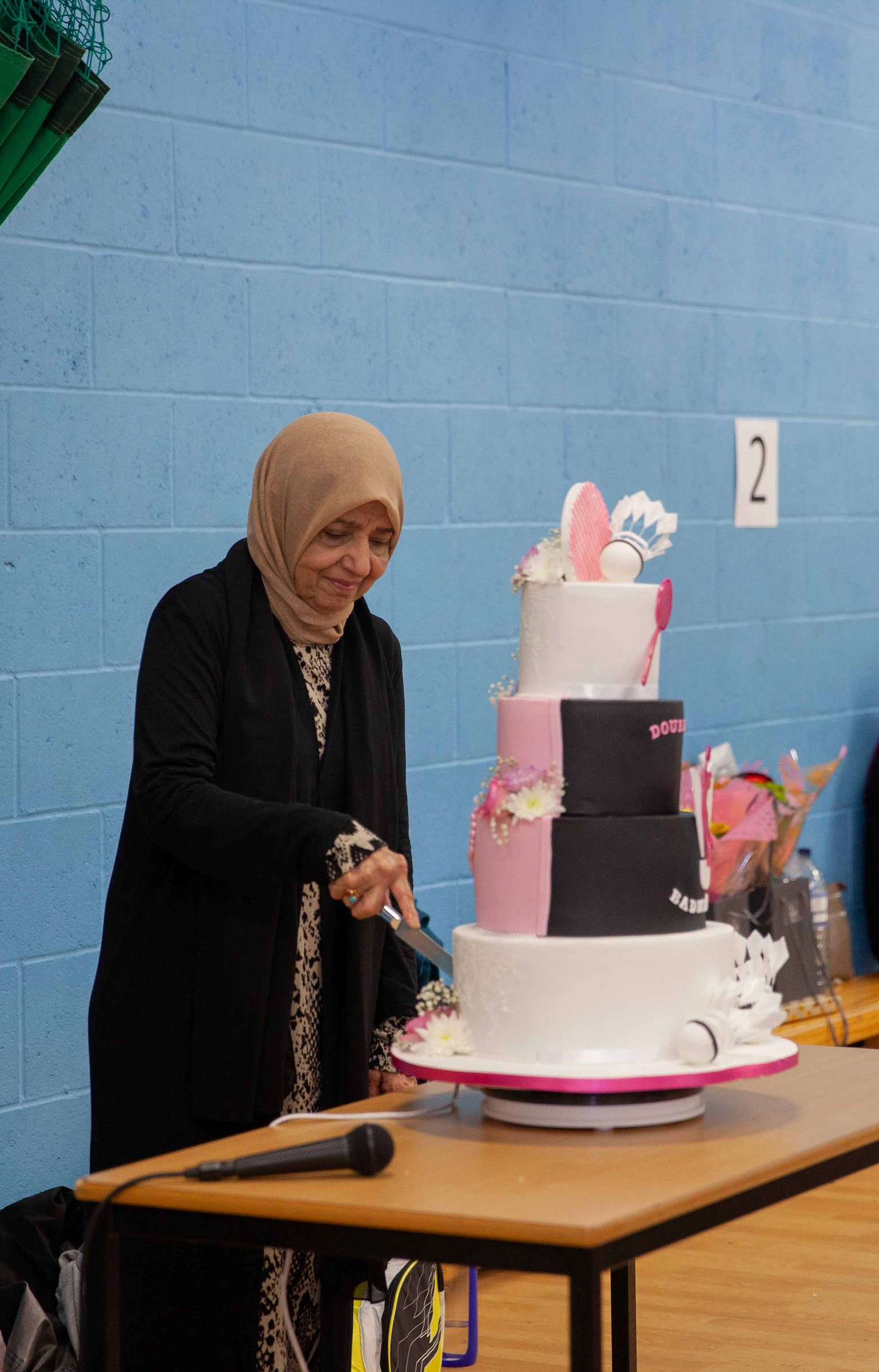 After the presentation we resumed with the Girls' games and the Ladies knockout stages. The quality of badminton on display was phenomenal especially the U16 girls who could easily give the advanced women a run for their money!
The competition was intense and closely fought across all 6 categories and some nail-biting games which kept us on the edge of our seats throughout, the final results were as follows:
Awesome Aasiya : 9-10 Years
Winners: Fatema Zahra Nurmohamed & Maryam Kermali (Stanmore)
Runners Up: Maryam Maleeha Valjy & Sara Fatima Jetha (Stanmore)
Incredible Eve: 11-12 Years
Winners: Hanaan Merali & Ana Chatoo (Stanmore)
Runners Up: Zainab Fatima Merali & Aaliya Kalyan (Stanmore)
Super Sarah: 13-15 Years
Winners: Sakina Merali & Zahra Allibhai (Stanmore)
Runners Up: Ameera Haji & Saman Khaku (Stanmore)
Lady Maryam: Beginner/Intermediate 1
Winners: Ruhena Ladha & Shakila Bandali (Hyderi)
Runners Up: Zameena Karmali & Sakina Karmali (Stanmore)
Lady Khadija: Intermediate 2
Winners: Shyrose Asharia & Kaniz-E-Fatema Esmail (Hyderi)
Runners Up: Mariam Merali & Aleena Dewji (SICM)
Lady Zainab: Intermediate 3/Advanced
Winners: Naznin Merali & Safiya Merali (Stanmore)
Runners Up: Fehmida Bhimji & Fatema Merali (SICM)
Congratulations to all of the winners and runners up and thank you to all for joining us in making the event a truly memorable one for all involved.
A special thank you to all those who volunteered and umpired on the day. The smooth running of the event would not have been possible without you. We would also like to extend our gratitude to our donors and sponsors for the event. May He reward you all for your efforts.
View Gallery