Stanmore Jafferys – Next Steps: Transitioning to a new leadership & structure in 2021
Over the past 20+ years, Stanmore Jafferys has served the community through a variety of activities – sports, literary, social and relief to name a few.
The organisation has now grown to 1300 members (of which 550 are ladies and girls) and 150 volunteers (of which 40 are ladies). The increase in Stanmore Jafferys ladies membership has been exponential in the past 5 years growing tenfold since 2015.
This has been as a result of the vision, dedication, enthusiasm and passion of the various leaders across all facets of Stanmore Jafferys that we have been fortunate to have over previous terms as well as the hard work and determination of all who have coordinated and volunteered for Stanmore Jafferys. Each one of these individuals has played a part in building the organisation we have today.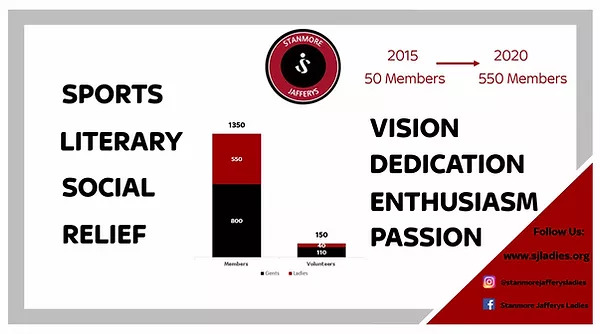 Our sports organisation has been on an exciting journey in recent times as we have continued to expand the number of sports on offer as well as improving the quality of delivery of our sessions, tournaments and festivals.
This has unearthed great talent within our community from football, netball and badminton to tennis, cycling and now running. We are incredibly proud of the engagement in sports from ladies and girls and are looking forward to nurturing existing talent and discovering new talent in the near future.
To ensure sustainability and continuity of the club, we have taken the decision to streamline the structure and focus on the provision of high quality sporting activities for you, our members. Therefore, as of January 2021, the structure shown on the below left will be replaced by the structure on the right –  a fully elected sports-based executive committee responsible for the future of ladies sports and the income and expenditure associated with this. A 4-6 woman executive committee consisting of a chairlady, vice chairlady, secretary (+ assistant) and treasurer (+ assistant) will oversee sporting activities led by the coordinators who run each sport thereby eliminating the current "Head of Sports", "Head of Social" and "Head of Literary" positions.
This has been a difficult decision but one we feel will enable the club to continue to grow. Our cultural activities departments have been lucky to have a cohort of great leaders and volunteers over the past 15-20 years organising memorable events such as the ladies quizzes, blockbuster evenings, Qur'an challenges, Muharram workshops, girls Ramadhan sleepovers, Ramadhan Relief fundraisers, Eid auctions and countless other events. We would like to thank everyone involved in holding these events which have created wonderful memories for so many people.
Due to the Covid pandemic, the cultural team has been unable to carry out activities planned for 2020. Therefore, we would like to offer our non-sports members a choice of either:
A refund equivalent to the sum of the non-sports membership fee (£3 for ladies & £2.50 for girls reception-year 11)

Or the option to donate your non-sports membership fee for 2020 to Stanmore Jafferys Ladies sports to help us return to sports during these challenging times

​If you would like to receive a refund, please fill in the form linked below completing one entry for EACH member you would like a refund for (e.g. if you have 4 children plus yourself, you would need to complete the form 5 times to receive a refund for you all)
We would like to thank you all for your support over the past years in all of our events and activities. As we approach the end of the current term, we are now reaching out to you, the community, to help take the club forward under fresh, new leadership.
The elections are planned to take place in November subject to the wider Covid situation at that point. It is clear that the club, its members and the community as a whole have a plethora of individuals who possess the leadership, communication and management skills required to take Stanmore Jafferys forward.
If you feel that you have the passion, vision and work ethic required to be part of the executive committee or as a volunteer in any sporting activity, please get in touch with us as we plan the club's transition to the next phase in a timely manner. Given the growth in the club size, we need similar growth in volunteers, coordinators and most importantly coaches to be able to facilitate the needs of our members. We have started the process this early to allow those of you interested in being involved in the future of the club to find out more about what is involved and required of you and so that the current team can share their experiences of leadership.
If you would like to put forward a team of a minimum of 4 individuals to contest the executive committee elections, please do so by emailing. We are really looking forward to seeing the next leadership group build the next block for this fantastic club
With duas,
Stanmore Jafferys Ladies Executive Committee 2019-2020