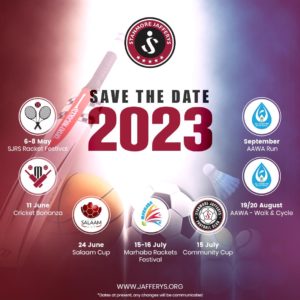 Stanmore Jafferys are pleased to share dates of the major sporting activities taking place in 2023. This year sees a full tournament year for SJ, with the return of Racket Festivals, to our Cricket Bonanza, our much loved football tournaments and of course, the Ali Asghar Water Appeal Sportive.
6 to 8 May – SJRS Racket Festival
11 June – Cricket Bonanza
24 June – Salaam Cup
15 to 16 July – Marhaba Rackets Festival
15 July – Community Cup
19 to 20 August – AAWA Sportive (Walk & Cycle)
September – AAWA Sportive (Run)
Sign up details and confirmation of dates will be provided by each sport closer to the tournaments.